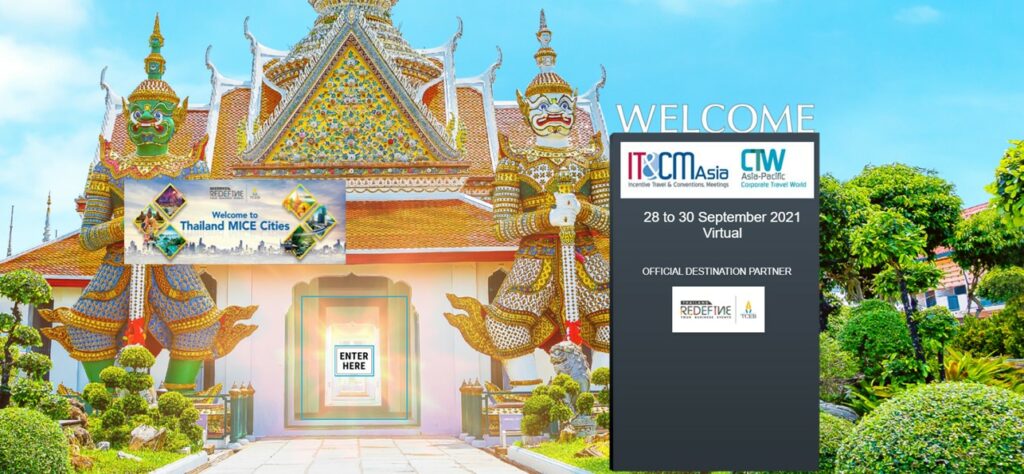 11 October 2021, Bangkok: TCEB launched all 10 Thai MICE Cities for the first time at 'IT&CM Asia and CTW Asia-Pacific 2021 Virtual' to attract international clients. Their presence and the participation of another 20 private sector exhibitors put into spotlight Thailand's branding "Experience the Extraordinary". It demonstrates the kingdom's preparation to welcome overseas MICE travellers following the government's easing of quarantine rules, pandemic control measures and city reopening plan. It is expected that Thailand will welcome 110 events for the upcoming period.
Mr. Chiruit Isarangkun Na Ayuthaya, President, Thailand Convention & Exhibition Bureau (Public Organization) or TCEB, stated that the country reopening with Phuket Sandbox Model and its extension to Phang Nga, Krabi and Surat Thani have produced satisfactory results. Therefore, 5 more cities will be reopened in Phase 2, which includes Bangkok, Chonburi, Phetchaburi, Prachuap Khiri Khan and Chiang Mai. It is a great opportunity for TCEB to signal to overseas market that Thailand is ready for MICE travellers and global events in order to drive the economy.
In this regard, TCEB and Thailand Incentive and Convention Association (TICA) joined hands in bringing 20 Thai MICE entrepreneurs to showcase their products and services at IT&CM Asia and CTW Asia-Pacific 2021 Virtual – the regional distinguished event in MICE and Corporate Travel – during 28-30 September. Of important note is that this year is the first year that TCEB's 4 regional offices were able to bring all 10 Thai MICE Cities to showcase their capability, readiness, attractions and uniqueness in order to attract international markets under the bureau's campaign "Thailand: Redefine Your Business Events – Experience the Extraordinary". Thai exhibitors were able to make a total of 1,065 pre-scheduled appointments and it is expected 110 events will be staged in Thailand.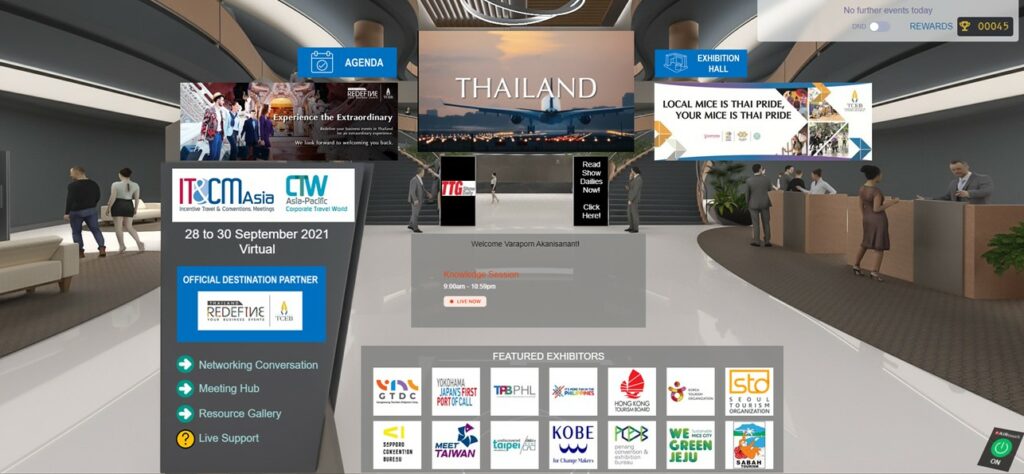 The 20 private sector exhibitors comprised 14 hotels, 2 convention and exhibition facilities, 4 DMCs (Destination Management Company). The 10 MICE Cities were Bangkok, Chiang Mai, Pattaya, Phuket, Khon Kaen, Nakhon Ratchasima, Udon Thani, Songkhla, Surat Thani and Phitsanulok. The cities were represented by the provincial tourism associations, provincial convention and exhibition bureau and regional MICE network associations who met 185 international sellers and 277 buyers from 30 countries.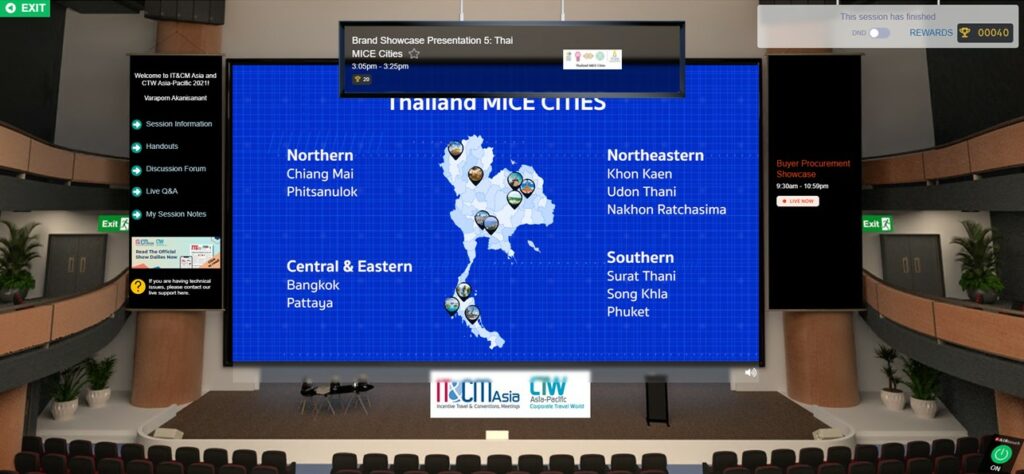 "To bring together all 10 MICE Cities to this regional trade show demonstrates the readiness of Thailand and Thai government's move in the easing of pandemic control measures as the reduced period of quarantine to 7 days for fully vaccinated travellers. The move has resulted in more businesses able to resume their activities and more cities prepared for reopening. On the part of MICE, TCEB has consistently made preparation for the reopening, ranging from the introduction of all 10 MICE Cities to showcase diverse MICE locations, the development of more MICE routes to activities that reflect unique cultures of all regions. In this connection, TCEB has launched the 2022 communication campaign namely "Thailand: Redefine Your Business Events – Experience the Extraordinary" to raise awareness of international MICE travellers that Thailand is ready to welcome them with 'Extraordinary Destinations' that will deliver 'Extraordinary Experience' to impress global MICE travellers. Such delivery will make up for the absence of international travel lasting for almost 2 years now, which TCEB believe will ignite their desire for new and extraordinary rewards and Thailand will remain attractive with more enhanced attributes be they destinations, business opportunities and splendid hospitality."
TCEB President said that the past years have been a period of TCEB's collaboration with certain provinces to develop their status as MICE Cities, craft their products and their MICE routes under the project "Thailand's 7 MICE Magnificent Themes". Consequently, 3 more MICE Cities are debuted this year – Udon Thani, Phitsanulok and Surat Thani. Meanwhile, existing MICE Cities have upgraded their services, products, MICE routes and festivals under the same project, for example Chiang Mai Blooms Floral Festival and Khon Kaen Silk Festival.
(photo 7.4)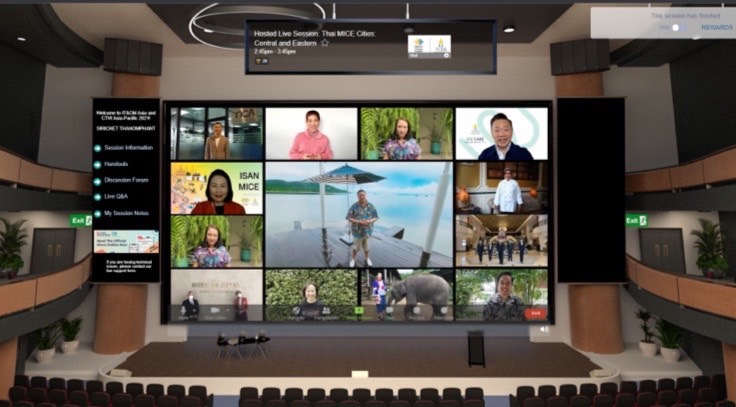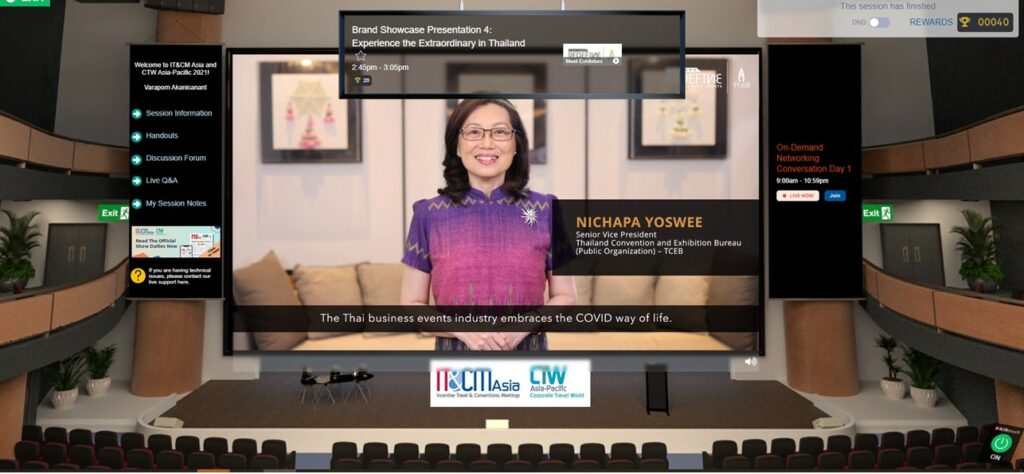 To enhance Thailand's appeal at IT&CMA 2021, TCEB introduced comprehensive packages designed to support all MICE groups. The "SMILE " package offers budget subsidy and other forms of support for corporate meetings and incentives held in Thailand by September 2021. The "Convene Plus" package bolsters international conventions that produce economic, social and environmental impacts, whether they are organised in hybrid format, or utilise online technology or collaborate with local suppliers. The "Re-Energizing Exhibitions" aims to support organisers, exhibitors and buyers, as well as additional support for new events located in the Eastern Economic Corridor (EEC), whether they are physical or hybrid shows. The "Festival Economy" supports mega events and festivals of national and global scales.