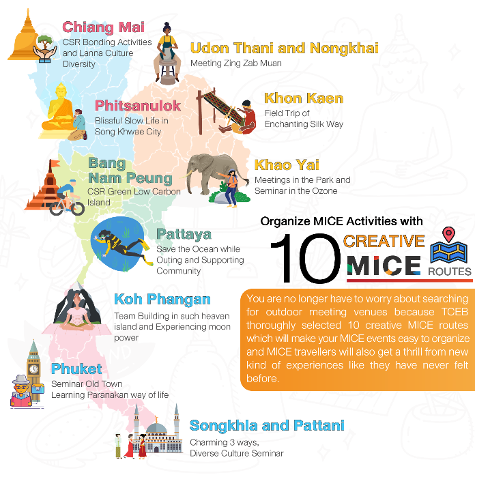 To help organizations and MICE travellers not to worry about searching for MICE routes or waste time thinking of what activities should be arranged, TCEB thoroughly selected 10 creative MICE routes for supporting a wide variety of MICE activities in each region, and suggested impressive package for MICE travellers in order to help promote the economy and culture of the communities in each area. Now, let's take a look at the Best of the Best 10 creative MICE routes.

If you are looking for a place for CSR activities that is in the suburb of Bangkok and easy to travel to, we would like to recommend "Bang Nam Peung – Bang Ko Bua: CSR Green Low Carbon Island" which is a green MICE route which you can engage in CSR Rally. There are various entertaining activities: attending workshop of making the community's well-known products such as stingless bee honey soaps and natural tie-dye clothes, rowing a boat to pick up trash in the canal, and soothingly enjoy foot spa with local herbs.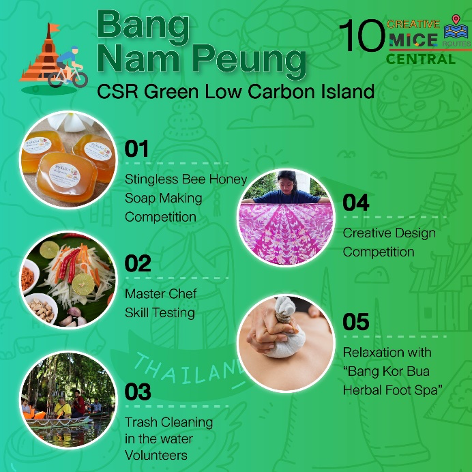 Here comes another route that does not take much time to travel to. We would like to introduce you to Chonburi and its MICE route, "Pattaya: Save the Ocean while Outing and Supporting Community". This is an ideal incentive route for all employees in a company. Under the concept of Incentive for All @Pattaya, there are many amusing activities which help you to get to know more about local way of life. For example, enjoy CSR by releasing juvenile fish into the sea to conserve marine life, visit and view coral reef, join various fun team building activities on the beach, and learn how to make the Ma-Hot bunch, an auspicious hanging which represents Takian Tia community's folk wisdom passing down across the generations.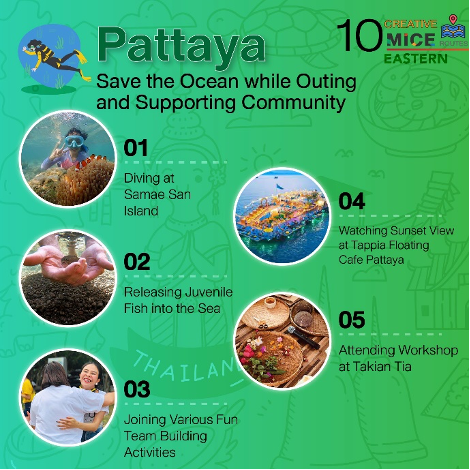 Let's go up from the sea to the mountain with the MICE route, "Chiang Mai: CSR Bonding Activities and Lanna Culture Diversity." It is a path to build solidarity among colleagues. There are many diverse activities which fulfill MICE travellers with food, satisfaction, and merit such as joining Bodhi tree sustaining ritual, attending to seasonal CSR activities in Northern way to conserve nature, engaging in team building activities by creatively creating the organization's logo on Kanom Pia, a Chinese Pastry, and tasting a delightful Yunnan Suki, a jumbo 9-layers hot pot with one of a kind original recipe of Yunnan community.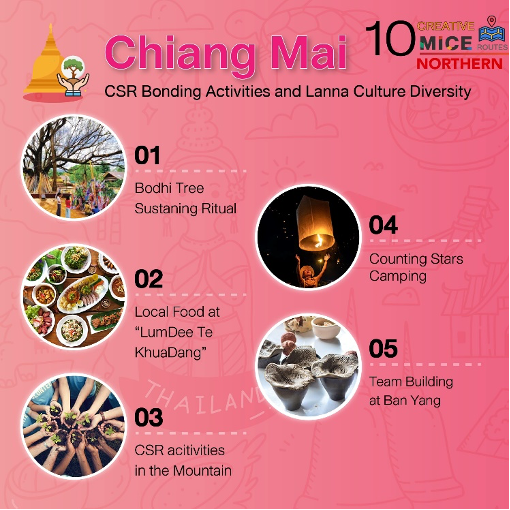 Let's move down a little further to another MICE route, "Phitsanulok: Blissful Slow Life in Song Khwae City." Phitsanulok will take you to experience a new kind of journey through eco-friendly activities amid breathtaking natural setting while visiting and learning about organic farming, the locals' way of life, and their folk wisdom. Also, MICE travellers can appreciate the charms of Thai Buddha amulets and statues while paying respect to Luang Pho Yai, who is Song Khwae people's spiritual anchor. Moreover, you can also visit and learn about the 360-million-year-old fossil, admire the fascinating scenery of bats and flower gardens in the twilight, have fun with making unique patterned pottery and enjoy rowing the sub board along the Nan River.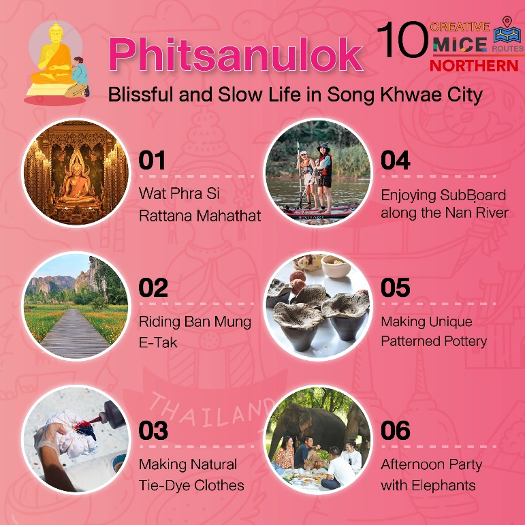 Leave slow life from the North, let's have more fun in the Northeast known as Isan. "Khon Kaen: Field Trip of Enchanting Silk Way" will introduce you an intangible cultural heritage like silk. MICE travellers can start learning from its production process to a delicate weaving into products. Besides, you can also participate in CSR mulberries farming activity while making dinosaurs handkerchief with local people, and joining welcoming ceremony which MICE travellers can tie the sacred thread to each other to show their beautiful friendliness and embrace the community's simple way of life.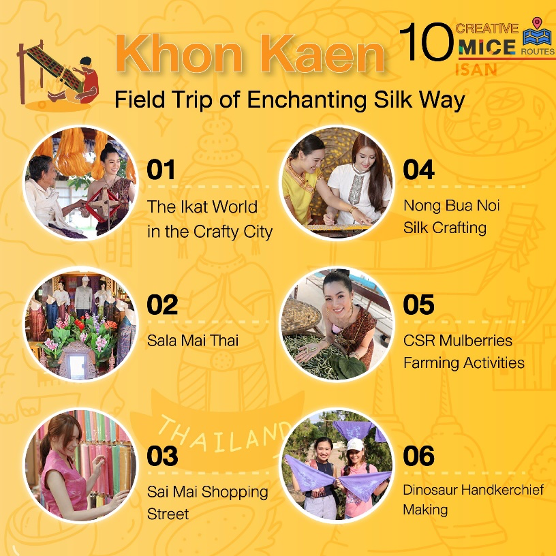 If that is not enough fun for you then let's move on to some delicacies from the Upper Northeastern route, "Udon Thani and Nongkhai: Meeting Zing Zab Muan". It will take you to ride a unique high-tech tricycle and introduce you to a valuable community's way of life of Ban Chiang, the world heritage, through sculpting and painting earthenware workshops. In addition, you will get a chance to savor Naem Nueng, a famous Vietnamese food, make tie dye fabric from red lotus which is the uniqueness of Ban Non Kok Community, enjoy contemporary architecture influenced by the Kingdom of Lan Chang while taking the slow boat down the Mekong River to pay homage to Phrathat La Nong.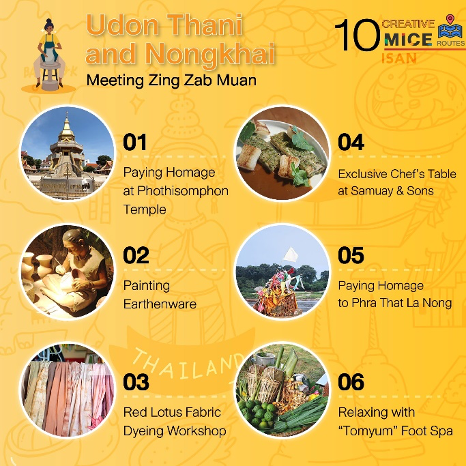 From the Mekong River, down to the midst of greenery of Khao Yai National Park which is in the next MICE route, "Khao Yai: Meetings in the Park and Seminar in the Ozone". MICE travellers can go outing among nature setting while physically and mentally relaxing with many Environment Conservation Activities related to Thai lives agriculture that you can choose from, such as take a tour at Night Safari, visit vineyards and the biggest winery in South East Asia while tasting wine in the beautiful vineyard surroundings. There is also the Chokchai Dairy Farm that awaits for all MICE travellers to experience cattle dairy farming and participate in making yummy fresh milk ice cream there.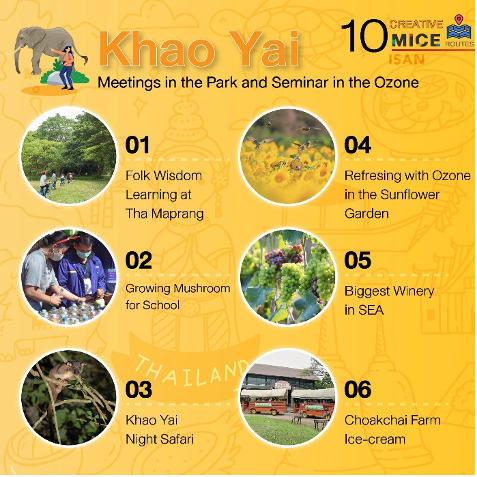 Departing from a forest then take a tour to an island and find the glow of the blue sky and sea with this tranquil MICE route, "Koh Phanyan: Team Building in such heaven island and experiencing moon power". This route will allow you to fulfill yourself with happiness and learn Phangan people's way of life while joining the sustainable CSR activities with the crab bank, doing breathing practice yoga and absorb Vitamin D on the white sandy beach in the morning, learning way of life following the Sufficiency Economy Theory of the late King Rama XI, and attending workshop of making organic fresh vegetable and fruit juice. Also, you can relax your body with cocoa and sound healing from Maya tradition and join creative CSR activity that aims to transform the useless waste around the beach into Arts, "Arts on Koh Phangan".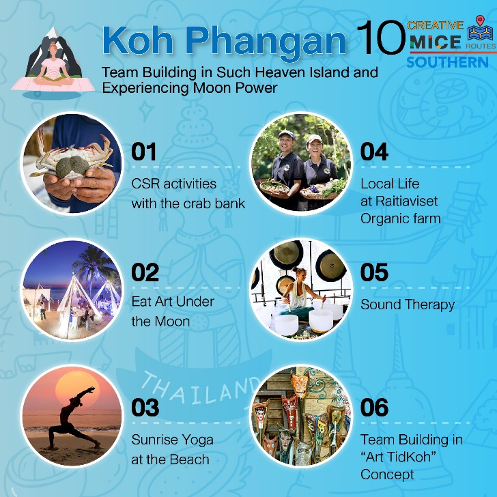 Let's move from Phangan Island to Andaman Sea, there is another MICE route here, "Phuket: Seminar Old Town learning Peranakan way of life". MICE travellers will get to know local way of life and valuable folk wisdom which has been preserved and passed down for hundreds of years through multiple activities: learning to cook Phuket Old Town's famous food such as stir-fry Hokkien Noodles and Ang ku kueh as known as Red tortoise cake, visiting the last smithy in Phuket, and admiring the artistry of the old houses and buildings while listening to the beautiful sound of Guzheng. Also, you can experience the fishermen's life and truly absorb the old culture by wearing Baba-Nyonya, the Phuket traditional costume, while visiting traditional way of life. Moreover, you will get to enjoy making Baba-Nyonya bag, learn the way of life of farmers who grow pineapples and rubber trees, and joining workshop of making Thai traditional desserts like Kanom Ko (Sugar Dumpling with Coconut) and Kanom Krok (Thai Coconut Pancake) in the shady coconut farms.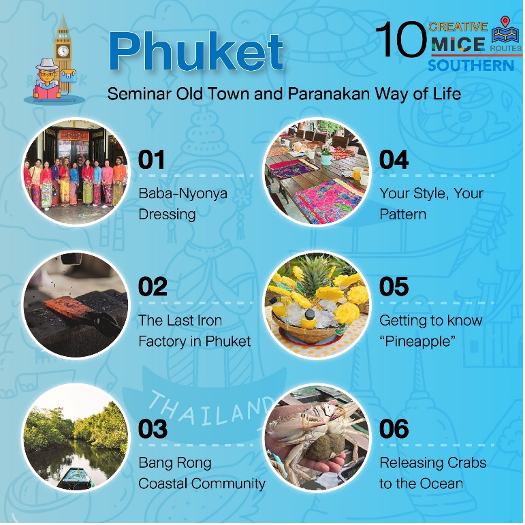 It's time to go down from Phuket to meet new kind of experiences unlike any others in a MICE route, "Songkhla and Pattani: Charming 3 ways, Diverse Culture Seminar" through a wide variety of activities to learn the value of multicultural city's charm which is perfectly mixed by three charming and valuable cultures including Thai, Chinese, and Malay. MICE travellers get to experience the beauty of local people's everyday life through these activities: wearing Baba-Nyonya traditional costume while taking a tour around the city on a tricycle to sightsee the southern architecture influenced by Malay, Chinese, and Western culture. You can also attend CSR activity in Pattani people's lifestyle by sliding wooden board and planting mangrove, experience an exceptional and unique lifestyle by making traditional silk Juan Tani textiles and savor the taste of fresh seasonal fruits right from the trees.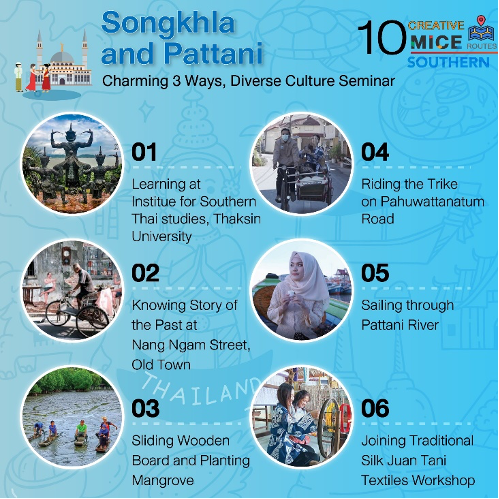 We can proudly say that the Best of the Best 10 Creative MICE Routes will be useful for helping you to organize MICE activities easier and more creative. The attendees will gain a new kind of experience and unforgettable impressions at these 10 routes undoubtedly.
TCEB would like to invite all companies, organizations, and those who are interested in traveling to these 10 creative MICE routes to stimulate Thailand economy, help MICE entrepreneurs, and contribute to income distribution in local communities. Thus, it will lead to the development of local communities, society, environment, and economy in Thailand to sustainably grow stronger together into the future.