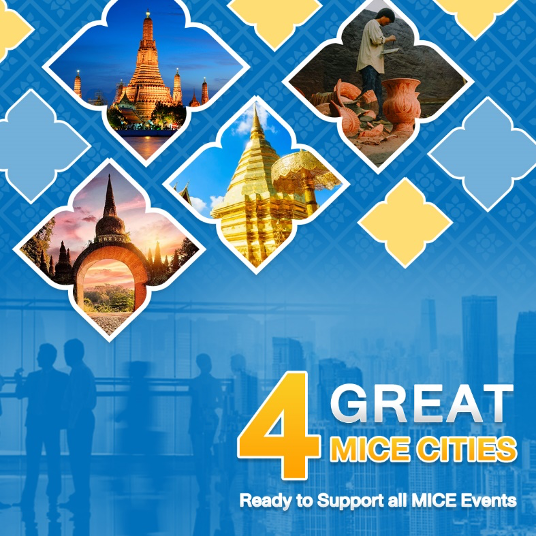 Carbon Footprint is the total amount of greenhouse gases (GHG) generated by human activities and measured by the amount of Carbon Dioxide emitted into the atmosphere to assess how much people, organizations, and countries impact on global warming.

Since TCEB is aware of the quantity of greenhouse gases caused by MICE events, we solve this problem with "Carbon Neutral Exhibition." In this scheme, TCEB cooperates with Thailand Greenhouse Gas Management Organization (Public Organization) or TGO in creating a guideline and recommending the useful tools for adopting in reducing the amount of carbon footprint emitted from MICE events.

The Sustainable Events Basic Guidelines are the manual for organizers who want to host MICE events as Carbon Neutral Exhibition. This guideline is easy to follow and it can also be widely employed. The details in the manual are divided into 7 categories covering from the beginning to the end of MICE events as follows:

Communications and public relations prior to the events: utilizing Digital and Online to advertise the events through social media and inform the ways to organize eco-friendly events for the participants to know and prepare in advance, such as recommending the attendees to bring their own water tumblers to reduce the use of single-use plastic bottles, etc.

Event venues: selecting the event venues certified by the standards of sustainable development, environment, energy management, or any relevant standards such as ISO20121, ISO14001, ISO50001, Thailand MICE Venue Standard (TMVS), ASEANMICE Venue Standard (AMVS), Thailand Sustainable Event Management Standard (TSEMS), etc. Otherwise, you can choose venues having sustainability policies in writing by considering a MICE Sustainability Suppliers List or venues accredited by TMVS and TSEMS. Also, you should select the event venues that are accessible easily by public transport.

Venue decorations and equipment: using the recyclable decorations with just the necessary amount and keeping the air conditioners' temperature not to lower than 25°C.

Food and beverages: reducing the use of single-use food and beverage packaging by providing food and beverage stations, using local organic ingredients in cooking, preparing the appropriate amount of food for the attendees, and donating the surplus for nonprofit organizations.

Registration system: reducing the use of papers by providing electronic registration systems via Email forms, QR Code, or Website, and utilizing recyclable business card to reuse it for the next events.

Other arrangements regarding the environment, society, and economy: choosing the event venues and facilities which are beneficial to local economy, selecting eco-friendly souvenirs or gifts produced by the community, providing opportunities for communities to participate in holding events, and segregating waste for proper disposal, as well as asking for the attendees' cooperation in travelling to the event venues by public transport.

Communication and public relations post the events: making a summary of practice, promoting successes of the events, informing the ways to organize MICE events, and the benefits of hosting sustainable events in order to be a model for organizers and raise awareness about sustainable events for those who involved in the MICE industry.

Apart from the manual, TCEB and TGO also apply Digital Technology to host MICE events as Carbon Neutral Exhibition by designing an application called "CF Event" derived from Carbon Footprint Calculator. It is an application that will calculate the emission of greenhouse gases from travelling, lodging, food, souvenirs, and waste from events since the start to the end. The organizers can also purchase carbon credits in the same amount of the emission from the events so that they will be considered as "Carbon Neutral Exhibition" or the events with no GHG emission. For those who are interested in "CF Event" application, you can download from App Store and Play Store to be a part of developing and organizing sustainable events in all sectors.

In addition to sustainable MICE events, helping reduce Carbon Footprint, everyone can easily take part in decreasing the amount of greenhouse gases by adjusting your day-to-day behaviors such as travelling by public transport instead of personal vehicles, using reusable or recyclable materials, and sorting waste before disposing. If organizers, including general people, can lower GHG emitted from MICE events or daily life, Thailand will be accepted by other organizations and organizers worldwide and considered as the main destination for sustainable MICE events.

For organizers who would like to host MICE events as Carbon Neutral Exhibition, you can download the manual, https://bit.ly/3G5bNWI