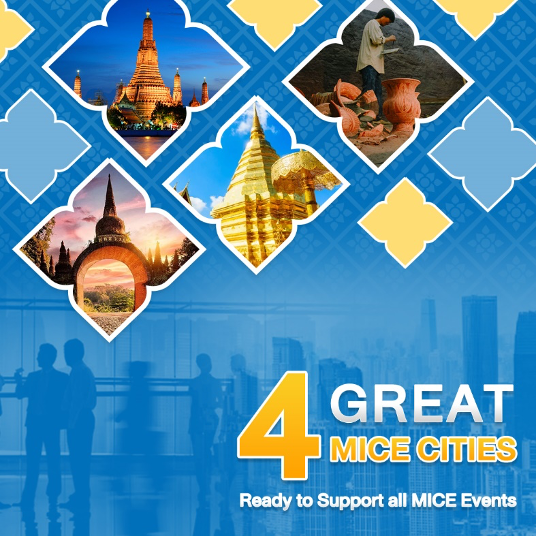 TCEB would like to introduce you to 4 locations in 4 MICE cities from 4 regions of Thailand. These venues are more than ready to support all types of MICE events across the country with their comprehensive range of venues, technology, and services that are well-responsive to any events held in the new normal. Where are these 4 venues? Let's take a look!
Convention Hall: Khum Kham International Convention Centre, Chiang Mai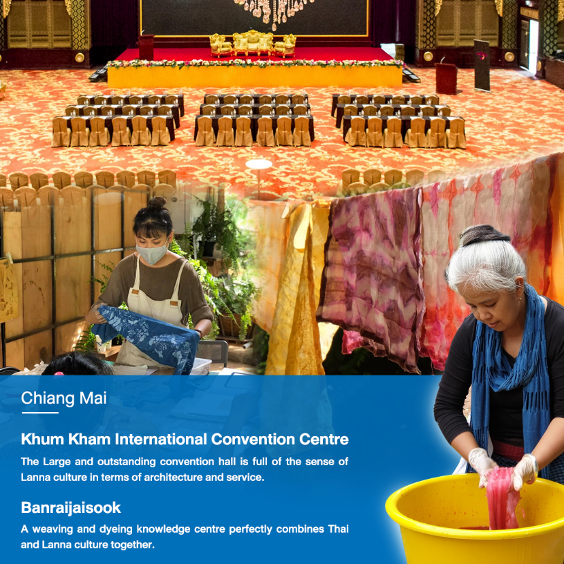 Apart from several hotels and restaurants in the center of Chiang Mai, there is another location attracting MICE entrepreneurs to visit for a great service like "Khum Kham International Convention Centre." This large convention hall is outstanding and full of the sense of Lanna culture in terms of architecture and service. It is also equipped with facilities and experts in creating all kinds of MICE events that will totally impress you. It is also certified by Thailand MICE Venue Standard (TMVS). Hence, the Khum Kham International Convention Centre can certainly create impressive meetings, seminars, exhibitions, and trade shows.
After visiting Chiang Mai, let's go to "Banraijaisook" in Hang Dong District, a weaving and dyeing knowledge center where perfectly combines Thai and Lanna culture together. In addition to appreciating the beautiful handwoven fabrics, visitors can also enjoy learning every step of weaving fabrics by hands. We are certain that MICE travellers will unforgettably experience the memorable beauty of Lanna culture and feel passionate about valuable history of this local community in the same time.
Exhibition: Central Plaza Udon Thani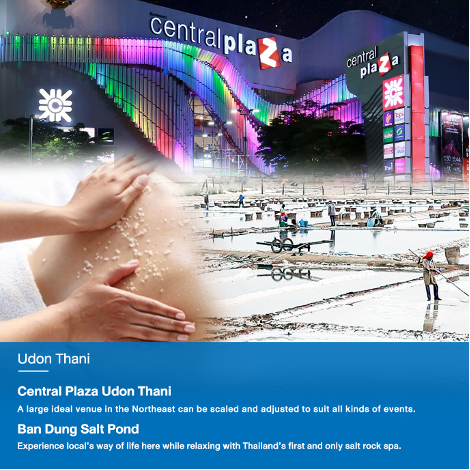 With more than 2,800 square meter area, Central Plaza Udon Thani is an ideal venue in the Northeast for organizing exhibitions and trade shows that can accommodate up to 2,100 participants. Moreover, the venue's scale and size can be adjusted to suit all kinds of events, such as exhibitions, trade shows, concerts, fairs, etc. Central Plaza Udon Thani is also accredited by Thailand MICE Venue Standard (TMVS). Thus, it is an interesting choice for organizing both regional and international events.
Arrived in Udon Thani, it is highly recommended for MICE travellers who are into health and local everyday life to visit Ban Dung Salt Pond in Ban Dung District. In addition to experiencing local people's way of life, MICE travellers also get to relax in the salt rock spa in Ban Dung Salt Pond, which is Thailand's first and only place offering this kind of spa. It is said that salt rock spa here has rich various properties such as relieving pains and aches, and making your skin glow. So, it is a must-visit for MICE travellers who are passionate about health.
Meeting Room: Suratthani Rajabhat University, Surat Thani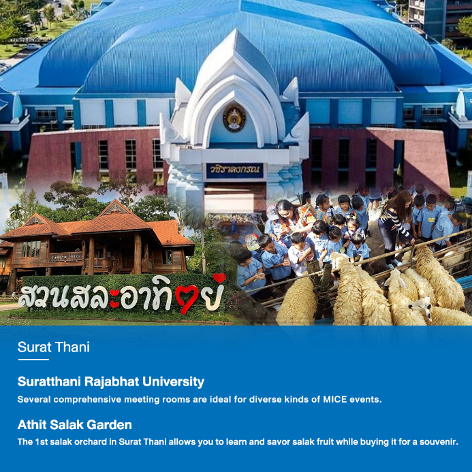 Apart from its specialty like the stunning islands, Chaiya salted egg, and school rambutan, Surat Thani also has several attractive venues supporting MICE events and Suratthani Rajabhat University is one of them. The venue is suitable for various types of MICE events as there are 4 meeting rooms equipped with necessary basic equipment, facilities, technologies and service. It is certified by Thailand MICE Venue Standard (TMVS) and it also has strict health protocols to prevent the spread of COVID-19. Therefore, this is an ideal venue for hosting MICE events in the New Normal era.
If you are looking for activities that allow you to savor local food and build strong teamwork, we recommend you "Athit Salak Garden," the first salak orchard in Suratthani, located in Khlong Prab Sub-District, Ban Na San District. There are various fun activities waiting for MICE travellers to enjoy, such as learning how to harvest salak fruit and soil management, greeting the albino buffalo; a conserved species in Thailand, tasting delicious salak fruit, and buying it for a souvenir.
Special Event Venues: CDC Crystal Grand Ballroom, Bangkok
In addition to CDC Crystal Design Center; Bangkok's top home decorations center located on Praditmanutham Road, there is also a large and elegant hidden room like "CDC Crystal Grand Ballroom." It is 1,050 square meter space supporting up to 1,500 attendees who attend events or conferences. Each room is also decorated with various furniture designed by the world-famous designers which you will be stunned by their artistry. This TMVS accredited Ballroom is equipped with "State of the art" sound system so it is suitable for any events that you have in mind, such as weddings, events, parties, and concerts.
There is another place changing Bangkok's image with earthenware and that is "Sanit Handmade." It is a place where MICE travellers get to boost imagination and knowledge through the workshops of clay sculpture or painted ceramic sculpture and you can choose to join any activities that you prefer. Besides, you can take home the sculpture you created as one-of-a-kind souvenir. It can be said that this is another location where you can learn and enjoy arts and crafts even more than before.
4 venues presented above can help MICE entrepreneurs to successfully and effectively organize and create MICE activities in the New Normal era.